Gregor the Overlander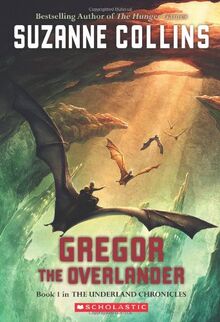 Gregor the Overlander is a book by Suzanne Collins, and is the first in the Underland Chronicles series. First published in 2003, it was met with critical acclaim, and was nominated for a Nutmeg Children's Book award 3 years later in 2006, coming in third place.[1]
The story takes place in New York City, and follows the adventures of Gregor, an 11 year old boy, and his 2-year old sister Boots.
When Gregor does his family's laundry on a hot summer day, his younger sister runs off, only to end up falling through a grate into the dark, mysterious world below known as the Underland. Gregor is led to the city of Regalia,where he encounters large bats, rats, cockroaches, and spiders, alongside the pale violet-eyed people who live in the city.
After being stuck in Regalia, Gregor tries to return home, only to get caught up in an old prophecy. As he gets pinned as a mysterious character known as the Warrior, he is set on a quest to retrieve his lost father, and to determine the fate of the Underland and the creatures who live there.
Notes and References
Edit